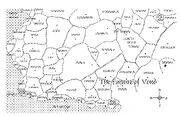 The Empire of Vond
is the southernmost of the
Small Kingdoms
, laying across a strip of uninhabited sand from the edge of the world and the noxious fumes that fill the area beyond. The Empire was founded in the course of events covered in
The Unwilling Warlord
by the
Warlock
Vond
in 5220
YS
subsuming first the kingdom of
Semma
, which Vond had been hired to save from other invaders, and then multiple other Small Kingdoms.
Subsequent to Vond being Called Sterren of Semma became Regent of the country and sent The Vondish Ambassador to Ethshar of the Spices. The result of this action was a demand of non-aggression between the Empire and several of its neighbors, including Lumeth of the Towers and Ashthasa.

The future of the Empire is an open question, especially with the return of Vond in The Final Calling.
Provinces
Edit
The Empire is composed of the small kingdoms conquered by the warlock Vond before his calling. These former kingdoms remain provinces governed internally but responsible to the government of the Empire. These states include;
Akalla of the Diamond
Alboa
Ansuon
Dherimin
Enmurinon
Furnara

Ghelua
Hend
Hluroth
Kalshar
Karminora
Ksinallion

Ophkar
Quonshae
Skaia
Thanoria
Zhulura